Bed Bug Pesticide Treatments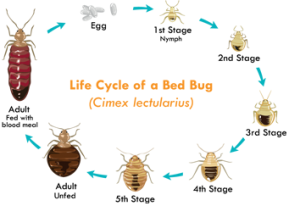 In addition to heat remediation treatments for bed bugs, Patriot Pest Solutions offers conventional, chemical treatment options for bed bugs. Our treatment strategy focuses on effectively penetrating all phases of the bed bug life cycle to efficiently eradicate bed bug infestations.
What Do Bed Bugs Look Like?
How do you know if you have bed bugs?
 Only a certified pest control professional can determine the full extent of your bed bug infestation, but there are common signs that indicate a bed bug presence. Finding live, adult bed bugs, bed bug bites, blood spots on sheets or bed bug castings or droppings are signs of pest activity.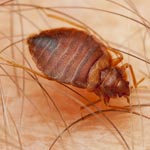 Adult Bed Bugs
Finding live bed bugs is a sure sign that there are more in your home.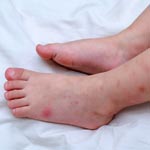 Bed Bug Bites
Clusters or rows of red, irritated bite sites. Commonly found on the back, insides of the arms, back of the legs and feet.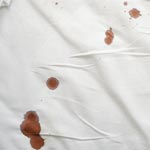 Blood On Sheets
Small blood stains on your mattress or sheets.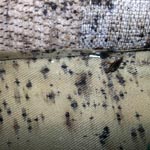 Castings / Droppings
Droppings, shed casings, shed skins and live bed bugs in the creases of furniture.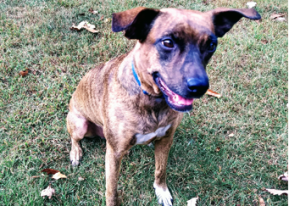 Bed bugs can hide in cracks the thickness of a credit card! Proper inspection is key to conventional chemical treatments. Bed bugs are typically found close to where you sleep, hiding in your baseboards, bed frame, box spring, cabinets, furniture, head board, mattress, night stands, picture frames – even behind electrical plate covers! All of our certified, state-licensed technicians have been trained in bed bug detection by our in-house Associate Certified Entomologist, one of twelve in the entire state of Pennsylvania. If you've got bed bugs, we'll find them.
Bed bug dogs can quickly pinpoint exact where bed bugs are present. Studies by the University of Florida in August 2008 showed dogs trained to locate live bugs had an overall accuracy of 97%. After alerting to an area, our technicians will visually inspect to verify their findings.
Bed Bug Treatment Process
Our conventional bed bug treatment program consists of two separate visits ten to fourteen days apart.
On our first visit, live adult bed bugs will be removed with a vacuum. Soft furniture that cannot be chemically treated will be steamed. After steam treatment, encasements will cover all affected furniture. Pesticides in the form of liquids and dusts are applied to the cracks and crevices within the affected rooms in the home. In rooms with high levels of bed bug activity, your technician will treat the bed frame, bureaus, nightstands and all other bed bug harborages. Dusts will be injected into cracks, wall voids, electrical outlets, and phone jacks. Bed bug monitoring devices will be placed within the affected rooms to determine the level of bed bug activity.
On our second visit, your technician will inspect the affected rooms and all bed bug monitoring devices to determine the level of bed bug activity. Affected rooms that still see bed bug activity will be re-treated in a manner similar to the first treatment. Depending on the severity of your infestation, additional visits may be neccessary.
Why Choose Conventional Bed Bug Treatments?
What Is Used During Treatment?
Proven Effective Bed Bug Exterminators
Bed bugs present a huge liability and require a professional company with a proven bed bug treatment process to provide solutions to eradicate bed bugs. Many companies do not possess the knowledge or skills to treat a bed bug problem. We know what it takes to find and eliminate bed bugs. Patriot Pest Solution's state-licensed exterminators regularly eliminate bed bugs from residential homes, apartments, condominiums, row homes and town houses.
A Peaceful Night's Sleep Awaits You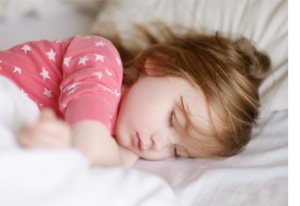 Stop worrying about the bed bugs lurking underneath your bed
. Patriot Pest Solution's state-licensed, certified exterminators regularly eliminate bed bugs from residential homes, apartments, condominiums, row homes and town houses.

 With over 50 years of experience, you can rest assure that Patriot Pest Solutions can eradicate any pest problem you may have in your residence or commercial property. Our family-owned business offers the best wildlife and pest preventative and removal solutions. We pride ourselves on being a results oriented business offering 100% pest control guarantee.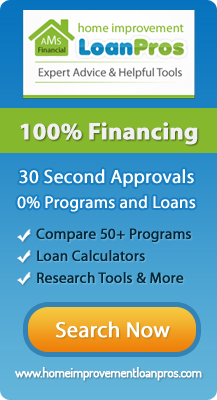 We called a Patriot Pest Solutions when we discovered a bed bug infestation in our home and they were simply excellent from beginning to end. We called and spoke with Lynda and she was great on the phone, very knowledgeable and she really helped calm my wife down after the initial shock of discovering bed bugs in our home. The same morning, within about an hour or two after calling, we had James come out for the initial inspection, he was extremely knowledgeable, he quickly assessed the situation and came up with a plan for service. He also let us know what we should and, just as important, should not do in the time prior to service. Finally, Kevin was the service pro that came out to do the heat treatment in the upstairs of our home. He was excellent as well, showed up on time, setup quickly and completed the job thoroughly and effectively. Most importantly, the treatment worked and we no longer have bugs in our home! Now bed bugs are not cheap to get rid of, but Patriot's pricing was very reasonable considering the nature and severity of the problem and these guys are worth every penny in my opinion. I am not the type to post reviews online, I think this might be the first time I have ever done it, but these guys are that good at what they do and deserve some recognition. If you have a bed bug problem, call Patriot Pest Solutions, they are excellent.

Appreciate thorough inspection and honesty is saying he didn't find anything and house didn't need treatment for bed bugs.

Even though I had bed bug bites I didn't bring them home with me! Dave was very honest in telling me that there was no need to treat, when he could have said nothing and just had me pay for the treatment. He very completely inspected and the inspection was at no cost to me. I appreciated the quick response of the Patriot Pest Solutions team to have my home inspected quickly and their honesty when treatment was not needed.

Extremely thorough and very informative. My son had been living in an apartment in Center City that became infested with bed bugs. Even though we were very cautious(washing all his clothes etc) he was terrified he may have brought them home. I called another exterminating company who came out and inspected. They found no sign of bed bugs but talked me into a "preventative" treatment for a couple of hundred dollars. Fortunately my son thought that was suspicious and my maintenance man gave me the name of Patriot Pest Solutions. They came out the next day and did a thorough inspection and found nothing. But the best part was they explained all about bed bugs…. where they start, how they multiply, where they move to once there is an infestation etc. They also said that a "preventative" treatment was a waste of money. I was really happy that I called them and would not hesitate to call them again for any pest problem.