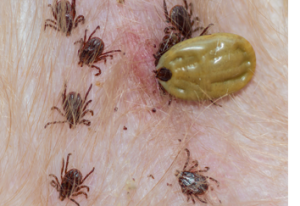 Ticks are small external parasites that live off the blood of people, mammals, birds, and occasionally reptiles and amphibians. They are found in tall grass and shrubs where they will wait to attach to a passing host. Physical contact is the only method of transportation for ticks. Ticks don't jump or fly, although they may fall onto a host. Ticks have harpoon shaped mouth parts, which allows them to anchor themselves firmly in place while feeding.
There are more than 25 species of ticks in Pennsylvania, but Delware Valley typically only sees three types; American dog ticks, Blacklegged ticks, and Lone star ticks.
Ticks Are Vectors Of Disease
Tick bites look like mosquito bites, but can sometimes bruise or resemble a bullseye. Ticks are second only to mosquitoes as vectors of disease. Ticks can trasmit Lyme disease, Meningoencephalitis, Rocky Mountain spotted fever, tularemia, babesiosis, Colorado tick fever, Q fever, tick paralysis, and several forms of ehrlichiosis. Tick-borne diseases correspond to a specific tick-host combination, and are limited in their geographical extent. Nearly 95% of all Lyme disease cases have been reported in the Northeastern part of the United States.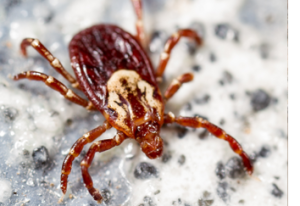 American Dog Tick
American dog ticks are often found on dogs and are easily recognized by the distinctive white markings on their back. These ticks feast till they swell to the size of grapes. American dog ticks are not selective when seeking a host. When dogs are not present, these ticks find humans, cats, cattle, horses and outdoor wildlife more than suitable replacement hosts. American dog ticks are a major carrier of Rocky Mountain spotted fever, tularemia, and tick paralysis.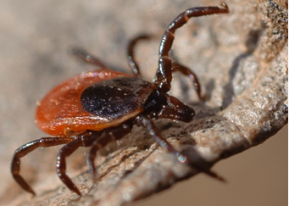 Blacklegged tick
Also known as Deer ticks, blacklegged ticks prefer to feed on deer and humans. This tick is a vector of Lyme disease and human babesiosis. Blacklegged ticks require 24 hours of attachment before they can transmit Lyme disease. Lyme disease cannot be transmitted once the tick's body is removed even if the mouthparts break off and are still in the skin.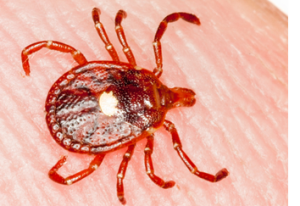 Lone Star Tick
Lone star ticks feed on larger animals, like deer and humans. The lone star tick is a vector of Rocky Mountain spotted fever in the Delaware valley region.
We recommend seeing a doctor or veterinarian to remove a tick.
Crushing or irritating the tick using heat or chemicals should be avoided, because these methods may cause it to regurgitate its stomach contents into the skin, increasing the possibility of infection.
Lyme disease found in deer ticks cannot be transmitted once the body is removed even if the mouthparts break off and are still in the skin. Prompt removal is important; infection generally takes an extended period of time – over 24 hours for Lyme disease alone. An effective extraction method involves carving the end of a small stick into a flat blade resembling a screwdriver, but with a small notch in the end. This tool is especially useful for removing ticks from dogs.
It is commonly claimed that petroleum jelly placed on the tick will clog the animal's breathing passages and cause it to detach itself. Many medical authorities advise against this and other smothering approaches as ticks only breathe a few times per hour and may continue to feed for some time. Smothering tactics may irritate the tick to the point of regurgitation and may cause otherwise avoidable infection.
Effective tick treatment starts with targeting populations where they originate. Our tick treatments are focused to shady areas in shrubbery and under decks where ticks live and breed.
All of the materials we use are registered by the EPA and are completely safe when applied according to the label by a licensed pest professional.
It is just as important to treat your lawn to prevent ticks as it is to mow and maintain a green and healthy lawn. Pets can easily bring ticks into your home. After feeding, ticks will drop off and lay eggs in protected cracks and crevices. Getting rid of an indoor tick infestation takes time because eggs can hatch months later, long after you think you have the situation under control.
Service begins with a licensed technician providing a full inspection of your property. During the inspection, your tick control technician will identify potential problem areas around your home or office. After the source of your problem areas have been identified, your technician will create a customized tick treatment plan for year-round protection, using the most effective and environmentally-conscious tick control solutions.
Why Do People Trust Patriot Pest Solutions To Remove Ticks?
Patriot Pest Solutions offers over 50 years experience in solving tick problems. We're family owned and locally operated. All of our certified, state-licensed technicians are fully insured and ready to eliminate your tick problem. Our treatment methodology was devised by our own in-house Associate Certified Entomologist, one of twelve in the entire state of Pennsylvania. We know how to get rid of ticks and keep them from coming back.

With over 50 years of experience, you can rest assure that Patriot Pest Solutions can eradicate any pest problem you may have in your residence or commercial property. Our family-owned business offers the best wildlife and pest preventative and removal solutions. We pride ourselves on being a results oriented business offering 100% pest control guarantee.

"Chad Kennard is a very professional and informative technician. He came highly recommended and we were not disappointed. We are pleased to have switched our pest control to Patriot Pest Solutions. Thank you."

Justin M. has been with our community at Amity Garden Apartments over the past year. He has always been on time, courteous to the staff and most importantly our residents. All of the services that we request are met or exceeded by Justin and Kim at Patriot. Nothing seems out of reach for their crew! Thank you for taking care of our community."

"We just had PPS out here last week because we've had TONS of ants over the last few weeks and since they left I have not seen one ant! AMAZING!! When Chad came out he was on time, friendly, and seemed very knowledgeable. Most importantly he was thorough! We've had other companies come out and it seems like they're there for 15 minutes and then leave. Chad really took his time explaining what (and why) he was doing certain things and I appreciated that. I highly recommend PPS!"