Stinging Insect Pest Control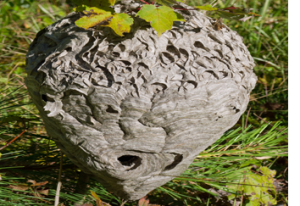 Patriot Pest Solutions exterminates any type of stinging insect infestation in the Delaware Valley. Wasps, bees and other stinging insect nests are a serious health concern around the home. Successful elimination of stinging pests requires proper identification of the bees, hornets or wasps that have infested your property. Unlike a bee's barbed stinger, wasps have a smooth stinger which allows them to sting many times when they feel threatened. Don't take the chance of upsetting a stinging bug nest, you may be stung multiple times!
Don't Lock Your Stinging Pests In!
Stinging insects rarely reuse the same nest year after year. Home owners often self-treat and then seal up exterior entry points that stinging pests use for their nests. Once trapped, the nest of bees, hornets and wasps find alternate ways of exiting the treated area. You don't want hundreds of irritated stinging pests trapped inside a wall with nowhere to go but inside the home!
Not all of the bees or wasps are present at the time of inital treatment. We prefer to allow all of them to return to the nest after treatment to reduce residual activity.
Stinging insects spend most of the spring and summer foraging. We cannot treat free flying bees or wasps as we cannot eliminate the source of the infestation.
Patriot Pest Solutions does not offer pest control for honey bees. To eliminate european bee populations, a professional bee keeper should be contacted for removal.
Bee, Hornet & Wasp Control
Stinging pest extermination starts with a state licensed pest control technician providing a full inspection of your property. During the inspection, we'll point out potential problem areas around the structure. Once the source of your wasp problem has been identified, we'll create a customized wasp treatment plan, using the most effective and environmentally-conscious extermination solutions available. Instead of battling stinging insects on your own, call us for a FREE estimate on your stinging insect problem.
Bee, Hornet & Wasp Control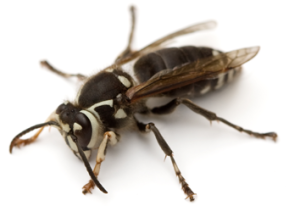 Bald-Faced Hornets
Bald-faced hornets look similar to yellow jackets but are white and black with a white bald faced head. These carnivorous hornets eat meat and other bugs. Bald-faced hornets build hanging, papery nests constructed of wood and a starch within their saliva. The nest is aggressively defended by workers repeatedly stinging.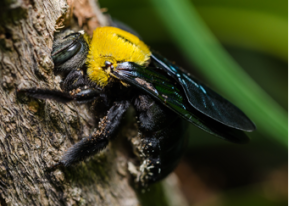 Carpenter Bees
Carpenter bees bore holes into wood and cause structural damage. They are commonly found in forested areas and around foothills of mountains. They are not known to sting humans, but their wood boring activities have been known to ruin decks, railings and outdoor furniture.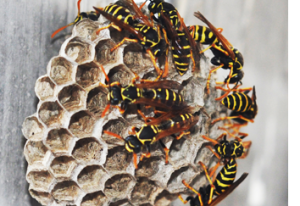 Paper Wasps
Paper wasps are about an inch and a quarter in length and make their nests from cellulose fibers from dead wood and plants. Their nests are water resistant and have a distinctive pattern, similar to honeycomb with no covering. These wasps are not typically aggressive, but they do build their nests in eaves and ceiling structures.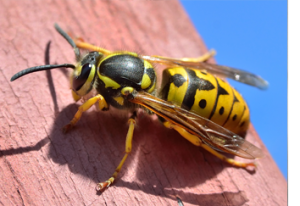 Yellow Jackets
Yellow jackets are black with yellow markings, similar to the bald-faced hornet. Yellow jackets make their nests in eaves, attics and sometimes underground spaces around yards. These wasps are often aggressive and will sting multiple times if threatened.
Why Do People Trust Patriot Pest Solutions To Remove Stinging Pests?
Patriot Pest Solutions offers over 50 years experience in solving stinging pest problems. We're family owned and locally operated. All of our certified, state-licensed technicians are fully insured and ready to eliminate your stinging pest problem. Our treatment methodology was devised by our own in-house Associate Certified Entomologist, one of twelve in the entire state of Pennsylvania. We know how to get rid of stinging pests and keep them from coming back.

With over 50 years of experience, you can rest assure that Patriot Pest Solutions can eradicate any pest problem you may have in your residence or commercial property. Our family-owned business offers the best wildlife and pest preventative and removal solutions. We pride ourselves on being a results oriented business offering 100% pest control guarantee.

Thanks to Kevin for all his help in clearing out our hornet and wasp nests we found in our new home. He did an excellent job for us and explained everything thoroughly. I am happy to recommend him and Patriot and we will continue to work with them in the future.

I had a nest of European Hornets in my home that I (wisely) decided not to try and handle on my own. This is the first time I've used a pest service for this purpose. Patriot Pest Solutions was very professional, quick, and easy. Price was reasonable. The bees are history!

Dane took care of my bee problem right away. He was on time and polite. I would recommend Patriot Pest Solutions to anyone. Their staff is friendly and very helpful.

We found Patriot Pest Solutions LLC online and gave them a call because we had a wasp problem. Our technician, Dane, was punctual and very polite. After inspecting our home, he explained the issue as well as his plan. He was very thorough and answered any questions that I had beforehand. I would absolutely recommend this company for pest services. I am very pleased with the service.

I would strongly recommend Patriot Pest Solutions. Justin, my technician, was extremely knowledgeable, professional, and courteous. They scheduled my appointment right away and they arrived when they said they would. In addition, it was done at a very reasonable rate. Best of all, the bees are no longer in my basement.

We had a terrible bee infestation inside our offices. I contacted Patriot Pest Solutions and they sent someone out within a few hours. They were very knowledgeable, friendly and also took care of a mice issue, much to our relief. Very pleased with the through inspection and quick response. Many Thanks