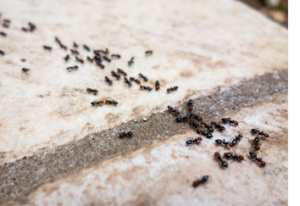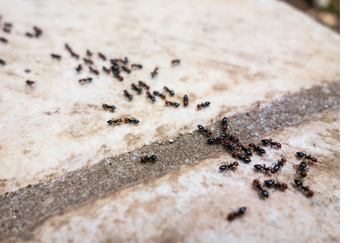 We're a local, veteran owned and family operated business with over 50 years of pest control experience.
As pest control experts, we feel that exterminating your pests is our patriotic duty. We realize bugs can be very problematic and destructive to your home. We strive for complete customer satisfaction with the results of our service. Utilizing proven, state-of-the-art materials and techniques, we will treat your home as if it were our own. We're more than happy to provide professional advice and a customized approach to any pest control problem. Our pest control solutions are tailored to your needs, instead of the assembly line approach that many other extermination companies offer. Our initial treatments rid your home of any existing pests and we'll design a maintenance program to reduce the chance of re-infestation in the future. All of our certified, state-licensed technicians are fully insured and ready to provide a pest control solution that fits your needs. You'll gain the peace of mind that comes from knowing your family is protected from pests. Our extermination services are perfect for apartments, condominiums, duplexes, homes, multi unit dwellings, row homes, town houses or any other residential living location. At Patriot Pest Solutions, your satisfaction is not just a goal – it's our job. We share a commitment to ethical, professional and environmentally responsible service. We guarantee you the highest standards of integrity and we focus not just on solving your immediate problem, but on earning your long-term trust.
Ants, cockroaches, fleas and spiders are common pests in residential settings. These pests are often delivered in cardboard boxes or enter the home through cracks or crevices. Seeing a single ant, cockroach or flea means there are many more waiting to be discovered. Spot treatment with over-the-counter sprays may kill the bugs you see, but only a licensed pest control professional can eliminate your pest problems once and for all.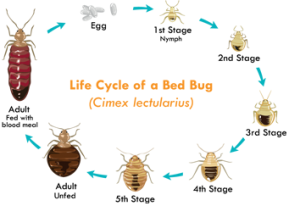 Bed Bug Control
Bed bugs commonly hitch a ride home with you and establish themselves in apartments, condominium developments and residential homes. These blood sucking pests can hide in cracks the thickness of a credit card and only come out to feed on your family. Depending on the location and severity of your infestation, we offer several effective bed bug solutions including heat treatments, steam treatments and traditional chemical treatment methods.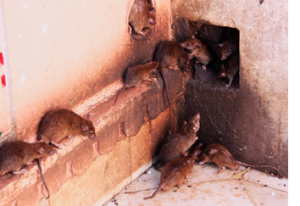 Rodent Control & Removal
Rats and mice are disease vectors that contaminate every surface they touch.
In a commercial environment, they are typically found near sources of food and water. Effective commercial rodent control involves population reduction with the use of traps, baits and tracking powders. Rodent stations are placed around the perimeter of the building to ensure no future rodents take up residence around your building, putting contamination concerns to rest. Once the rodents have been successfully removed from the structure, we'll focus on effective sanitation and rodent exclusion to keep them from re-entering the building.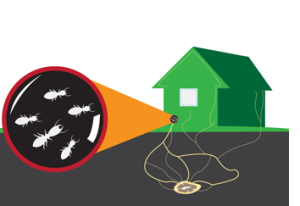 Commercial Rodent Control
Protect your home from termites before the damage occurs with Patriot Pest Solutions Subterranean termite treatments. We're state certified and have performed hundreds of wood destroying pest inspections. Our non-repellent termiticides and baits are effective at stopping termite colonies where they start. Termites are highly social insects which communicate by contact with one another. Our non-repellent above-ground and in-ground treatments are transferred by treated termites throughout the colony like a virus, eliminating your termite colony.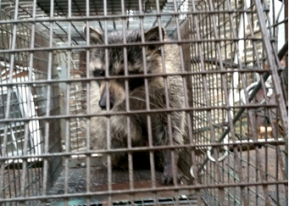 Wildlife Control & Removal
Wildlife removal is increasingly important because of urban sprawl reducing wildlife habitats. In many cases, wildlife species co-exist with their human neighbors leading to situations where action is needed to protect the wildlife, your family or home.
Patriot Pest Solutions offers over 20 years experience in wildlife removal and exclusion.
We're fully insured and licensed with the Pennsylvania Game Commission, National Wildlife Control Operators Association and the Pennsylvania Trappers Association. All of our certified, state-licensed technicians are fully insured and ready to eliminate your wildlife problem.

With over 50 years of experience, you can rest assure that Patriot Pest Solutions can eradicate any pest problem you may have in your residence or commercial property. Our family-owned business offers the best wildlife and pest preventative and removal solutions. We pride ourselves on being a results oriented business offering 100% pest control guarantee.
EcoSmart Botanical Pest Control

We use EcoSmart organic pest control products because they offer superior performance and minimal levels of environmental toxicity.

First time using & overall great experience, would highly recommend. The team that I worked with both inside/outside were extremely helpful & professional. Was able to schedule me immediately. As good as it gets when dealing with pests!

"Justin M. has been with our community at Amity Garden Apartments over the past year. He has always been on time, courteous to the staff and most importantly our residents. All of the services that we request are met or exceeded by Justin and Kim at Patriot. Nothing seems out of reach for their crew! Thank you for taking care of our community."

We have been having an issue with a bat colony in our attic. We have had various companies come out to provide a quote but none have been as courteous and professional as Dane T. He arrived right on time and was the first person to make me feel like this issue was a correctable one. He answered all my questions, provided a quote on the spot and told me to take my time to review and decide. Given the service he has provided today I am even considering changing over my year round pest control plan to Patriot Pest Solutions.

"We just had PPS out here last week because we've had TONS of ants over the last few weeks and since they left I have not seen one ant! AMAZING!! When Chad came out he was on time, friendly, and seemed very knowledgeable. Most importantly he was thorough! We've had other companies come out and it seems like they're there for 15 minutes and then leave. Chad really took his time explaining what (and why) he was doing certain things and I appreciated that. I highly recommend PPS!"

I had bird nest in the dryer vent near on the siding. They removed nest, sprayed to kill mites and put the galvanized cover on top of vent. Easy to set up appointment, straight forward up front price estimate. Technician on time and did nice job. Their workflow is good from setting up appointment to technician showing up and completing work. I would call them again if any pest or animal issue."

Dane helped with a squirrel problem in my chimney. He checked the problem, explained the solution, spelled out the plan and helped me to feel better about my concerns. Dane was very polite and business like in his manner. I would strongly recommend Dane to serve any customer and to provide a possible solution to a pest / wildlife problem. I have personally recommended Patriot Pest Solutions to members of my family and to my neighbors. I intend to continue depending on Patriot Pest Solutions.

Chad the singing bug tech… he is always so pleasant and brightens our days with his songs 🙂 He is a very good technician. We also learn a lot from him about various topics not just about bugs. He's the best!

Chad is the best of the best! He is friendly, courteous, respectful and extremely knowledgeable. The service he provides is dependable; he can answer ANY question about pest control. I can't imagine ever using anyone else. GREAT JOB!

Chad has been always punctual with arrival times and has always been able to take care of every pest problem we have had. Patriot Pest Solutions is lucky to have such a dedicated person working for them. He answers any questions we have had beyond expectation. We don't know what we would do without his expertise in pest control.