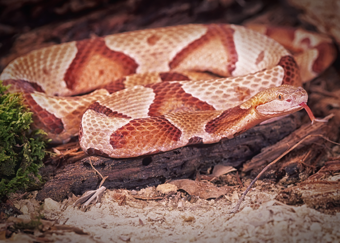 Snakes can either be harmless or deadly, so it's important to call an expert to handle the problem. Venomous snakes like the Northern Copperhead rattlesnake pose a serious health risk to people and pets and should be avoided at all costs. In many cases, homeowners have been bitten by rattlesnakes while attempting to trap them. There are many snakes found in Berks, Chester, Delaware and Montgomery counties: Hognose snakes, Garter snakes, Green snakes, 
Milk snakes, Racer snakes, Rat snakes, Ribbon snakes and Ringneck snakes. Every now and then, an irresponsible pet owner releases a Boa Constrictor, Python or Anaconda. None of these snakes are native to the area and do very poorly in our climate.
What To Do If Bitten By A Snake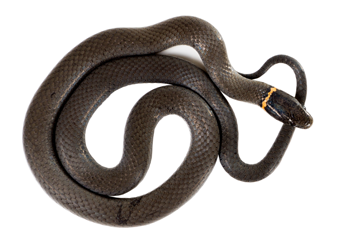 If you have called us out to your property for snake removal, keep an eye on the snake's location until we arrive with proper snake handling equipment. After capture, we'll release the snake far from your home. In situations where we cannot release the snake, it is euthanized in a humane manner. All snake trapping is done in accordance with local, state and federal laws.
Snake Exclusion & Snake Proofing
If you have a snake problem, we recommend excluding snakes from the structure. Snakes use existing openings around the home for dens. We eliminate the presence of future snakes by sealing any openings that they might use.
Why Do People Trust Patriot To Remove Snakes?
Patriot Pest Solutions offers over 20 years experience in snake removal and trapping. We're family owned and locally operated. Patriot Pest Solutions is a fully insured and licensed with the Pennsylvania Game Commission, National Wildlife Control Operators Association and the Pennsylvania Trappers Association. All of our certified, state-licensed technicians are fully insured and ready to eliminate your snake problem. Our treatment methodology was devised by our own in-house Associate Certified Entomologist, one of twelve in the entire state of Pennsylvania. Contact us today for a FREE evaluation of your snake infestation.

We're Certified Wildlife Professionals by the National Wildlife Control Operators Association. Our technicians are up to date with the latest training and certifications to provide you with the best and safest wildlife management service possible.

We're proud to be a part of the Pennsylvania Trapper's Association which promotes the humane trapping of wildlife. The Pennsylvania Trappers Association grew from just a handful of trappers in 1936 to become the largest state trapper's organization in the United States.

Kevin was amazing! He came right out and caught a large snake for us. He came back the next day when another large snake was in the trap. He was on time and got the job done. I would highly recommend Kevin for any pest problem you may have.

"Chad Kennard is a very professional and informative technician. He came highly recommended and we were not disappointed. We are pleased to have switched our pest control to Patriot Pest Solutions. Thank you."

"Justin M. has been with our community at Amity Garden Apartments over the past year. He has always been on time, courteous to the staff and most importantly our residents. All of the services that we request are met or exceeded by Justin and Kim at Patriot. Nothing seems out of reach for their crew! Thank you for taking care of our community."
With over 50 years of experience, you can rest assure that Patriot Pest Solutions can eradicate any pest problem you may have in your residence or commercial property
Our family-owned business offers the best wildlife and pest preventative and removal solutions. We pride ourselves on being a results oriented business offering 100% pest control guarantee.