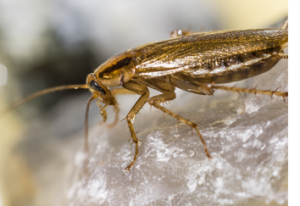 Fleas live outdoors and feed on the blood of humans and animals. The most common species of flea in Berk, Chester, Delaware and Montgomery counties is the cat flea, which feeds on cats, dogs and humans. These small, reddish-brown parasites are often make their way indoors on pets. Fleas have tube-like mouth-parts adapted to feeding on the blood of their hosts. Flea bites are are not painful, but they do cause itchiness and irritation. Fleas prolifically breed during their short life cycle, dropping many eggs in the places they infest. Flea eggs can lay dormant for a year before hatching, typically brought on by the hot season or shifts in weather.
Don't let the flea life cycle repeat! Call us for effective flea control treatments today.
The flea life cycle begins with a female flea finishing a blood meal and laying a clutch of up to 50 eggs. Eggs are typically deposited in your pets fur and easily roll off the pet, lodging themselves in carpets or on the ground. Pet resting and sleeping areas become primary habitats of eggs and developing fleas. Eggs hatch anytime between two days to two weeks later. Normal flea populations consist of 50% eggs, 35% larvae, 10% pupae and 5% adults. Larvae are blind, avoid light and pass through three larval stages over a period of a week to several months. Larva mature into adult fleas inside a silk cocoon in your carpets, cracks in flooring, grass, pet bedding, pet hair and many other areas around the home. Five to fourteen days later, adult fleas emerge when they detect movement, pressure, heat, noise, vibration or carbon dioxide.
Fleas Are A Vector of Disease
Fleas carry a wide range of pathogens and diseases. It is just as important to treat your lawn to prevent fleas as it is to mow and maintain a green and healthy lawn.
Flea Treatment Preparation
Before your flea treatment, it is important to schedule a flea bath for your pets with your veterinarian or groomer at the same time. If your home is treated before your pet is flea-free, your pet may reintroduce fleas into the home. We also request that you vacuum all carpets and rugs within 1 hour of your flea treatment. The heat and movement of the vacuum will trigger flea eggs in the area to hatch and more fleas will be exposed to our treatment. We'll provide you with a checklist before your treatment to maximize effectiveness.
For customers who are sensitive to pesticides, heat offers all the benefits of traditional indoor treatment methods with no toxicity, odors or residual chemicals. Heat treatments kill all stages of flea life on the first visit. Heat reaches where traditional pesticides cannot, rapidly penetrating eggs and pupae destroying them before they hatch. Outdoors, your home's exterior will also be treated to prevent outdoor fleas from coming in.
Low Toxicity Chemical Treatment
In addition to heat, we also provide low toxicity chemical flea treatments. We use low to no-odor products designed to exterminate fleas and their offspring. Our treatment effectively and immediately kills adult fleas and provides a lasting residual protection which continues to eliminate emerging fleas. We also use flea growth regulators, which prevent fleas from becoming sexually mature and breeding. Interior treatments will include all carpeting, throw rugs and pet areas. In rooms with hardwood or tile floors, our technician will treat baseboards, cracks and crevices for fleas. Your home's exterior will also be treated to prevent outdoor fleas from hitching a ride in. Depending on the severity of your infestation, multiple treatments may be necessary.
Why Do People Trust Patriot Pest Solutions To Remove Fleas?
Patriot Pest Solutions offers over 50 years experience in solving flea problems. We're family owned and locally operated. All of our certified, state-licensed technicians are fully insured and ready to eliminate your flea problem. Our treatment methodology was devised by our own in-house Associate Certified Entomologist, one of twelve in the entire state of Pennsylvania. We know how to get rid of fleas and keep them from coming back.

With over 50 years of experience, you can rest assure that Patriot Pest Solutions can eradicate any pest problem you may have in your residence or commercial property. Our family-owned business offers the best wildlife and pest preventative and removal solutions. We pride ourselves on being a results oriented business offering 100% pest control guarantee.

"Chad Kennard is a very professional and informative technician. He came highly recommended and we were not disappointed. We are pleased to have switched our pest control to Patriot Pest Solutions. Thank you."

"Justin M. has been with our community at Amity Garden Apartments over the past year. He has always been on time, courteous to the staff and most importantly our residents. All of the services that we request are met or exceeded by Justin and Kim at Patriot. Nothing seems out of reach for their crew! Thank you for taking care of our community."

"We just had PPS out here last week because we've had TONS of ants over the last few weeks and since they left I have not seen one ant! AMAZING!! When Chad came out he was on time, friendly, and seemed very knowledgeable. Most importantly he was thorough! We've had other companies come out and it seems like they're there for 15 minutes and then leave. Chad really took his time explaining what (and why) he was doing certain things and I appreciated that. I highly recommend PPS!"