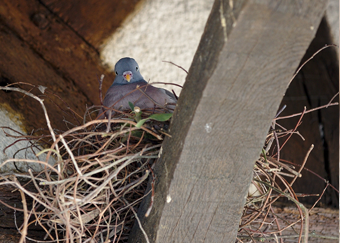 We specialize in bird control, removal and exclusion services for Berks County, Chester County, Delaware County and Montgomery County, Pennsylvania. Birds do not pose a direct threat to humans, but they carry bird mites that feed on humans and bird feces can cause an unsightly mess on your property. It is important to take care of your bird problem early before their numbers multiply. We offer humane removal and deterrent solutions for Crows, Doves, Finches, Pigeons, Sea Gulls, Sparrows, Owls and Woodpeckers.
Patriot Pest Solutions has over 20 years experience with humane bird removal and control methods in Pennsylvania.
Birds Are Disease Vectors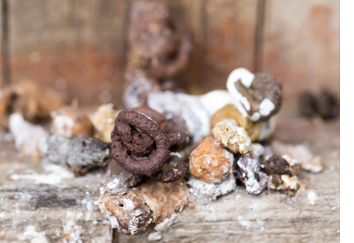 Birds pose a significant health risk to humans. As vectors for parasites and diseases, birds routinely contaminate products and cause industrial accidents. Birds build nests in attics, barns, belfries, chimney, dormers, eaves, gable apexes, roof edges, roof valleys, shutters, siding, tree tops and vents. Roosting areas are quickly covered in acidic feces which block drain pipes and gutters, erode stonework, foul fire escapes, cause structural damage, damage air conditioning units and ruin electrical systems. Bird droppings frequently contain toxic fungi causing Histoplasmosis and Cyptococcosis in humans.
Bird mites are parasitic pests that make their homes in bird nests and on birds themselves. Bird mites will quickly make their way into your home from direct contact with infested birds, fallen feathers or bird nesting materials. Bird mites typically infest bedrooms and bathrooms, but have been known to quickly take over whole homes. They are aggressive and they often bite humans when their original food source has gone, as when the young birds leave the nest. It is important to remove bird mites immediately as they can quickly multiply into major infestations.
We strongly recommend preventative maintenance steps to keep your birds from returning. Birds tend to use already existing openings around the home to make their nests. If these holes are left unsealed, more birds will move in. We use a specially made humane trapping system that incorporates one-way doors which allow the mother bird to feed the baby birds. Our team will then return after 24-48 hours to remove the trap with the birds inside. We'll clean out nesting material, treat for bird mites, ensure that your vents are working as they should and repair the area with a stainless steel cover so they can't make their way back in.
Hearing a scratching noise coming from your vents? Black birds, house sparrows and starlings often build their nests in vents. Bathroom vents, chimneys, dryer vents, fan vents, gable vents, microwave vents, ridge vents and stove vents are just a few of the places these birds have been known to roost. Nesting materials block air flow, eliminating the effectiveness of the vent system and contaminating your home with bird related odors. In chimneys and dryer vents, nesting materials can also present a fire hazard by preventing hot air to properly leave the building. Our team will ensure that your vents are free and clear of birds and nesting debris.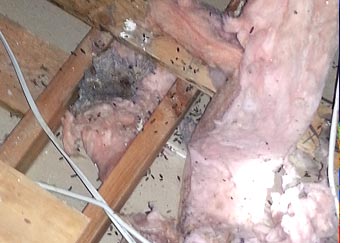 If you have had animals in your attic, you could be harboring a significant health hazard. According to the Center for Disease Control, humans can contract diseases from wildlife when exposed to urine, droppings, saliva or nesting material. An animal presence in the attic means urine, feces and animal carcasses right above you and your family's heads.
We can help! We will remove your contaminated attic insulation, disinfect, repair access holes and install a fresh, clean blanket of TAP pest control insulation.
The Boric acid content of TAP insulation acts as a permanent pest control solution, disinfectant and odor eliminator where it is placed. Typical energy savings with TAP insulation range from 20%-38%.
Bird spike strips are humane abatement deterrents to bird roosting in common problem areas. Spike strips are environmentally friendly, non-lethal and provide a lasting bird control solution, especially in commercial areas with ongoing bird control problems.
Why Do People Trust Patriot To Remove Birds?
Patriot Pest Solutions offers over 20 years experience in bird removal and exclusion. We're family owned and locally operated. Patriot Pest Solutions is a fully insured and licensed with the Pennsylvania Game Commission, National Wildlife Control Operators Association and the Pennsylvania Trappers Association. All of our certified, state-licensed technicians are fully insured and ready to eliminate your bird problem. Our treatment methodology was devised by our own in-house Associate Certified Entomologist, one of twelve in the entire state of Pennsylvania. We know how to get rid of birds and keep them from coming back.

We're Certified Wildlife Professionals by the National Wildlife Control Operators Association. Our technicians are up to date with the latest training and certifications to provide you with the best and safest wildlife management service possible.

We're proud to be a part of the Pennsylvania Trapper's Association which promotes the humane trapping of wildlife. The Pennsylvania Trappers Association grew from just a handful of trappers in 1936 to become the largest state trapper's organization in the United States.
Chad at Patriot Pest was awesome. I was having a problem with overly aggressive birds nesting. Chad and a trainee came out right at the start of the time window I was given and were as professional, courteous and efficient as could be. They took care of the situation and he explained to me all the procedures he did and what to expect in the next few days. Couldn't be happier with Chad's attentiveness and service and Patriot Pest. Thanks!
Simply put, there aren't enough stars to accurately rate the quality of Kevin's work. I've never even heard of a service professional as prompt and flexible as what we got from Kevin and Patriot. Thanks to this, we'll be able to enjoy the holiday weekend without a pesky bird house guest (and his fellow travelers). If you're reading this review and have a pest problem stop, drop, and call Patriot. And if this sounds like add copy, well I can't help that.
Kevin did an excellent job resolving the issue of birds nesting behind the shutter over my front door. To me, he went above and beyond to ensure that the problem was resolved, and he was very polite. The birds are gone! Thanks, Kevin!
We are in the process of selling our home and noticed that there were birds trying to nest in our siding area around the roof. We called Patriot Pest Solutions, and they gave us a low/high ballpark quote of what it would cost before coming. Dane was very professional and knowledgeable and described in detail what he would be doing. He found the entry point, sprayed pyrithrine for any possible bird mites and fixed the soffit area. We were also told it was guaranteed for 30 days if the birds somehow found their way back in the soffit area. We would most definitely recommend to anyone for this type of issue. Thank you Dane and Patriot Pest Solutions.
I had bird nest in the dryer vent near on the siding. They removed nest, sprayed to kill mites and put the galvanized cover on top of vent. Easy to set up appointment, straight forward up front price estimate. Technician on time and did nice job. Their workflow is good from setting up appointment to technician showing up and completing work. I would call them again if any pest or animal issue.
Called and Denice was courteous and kind. She sent James out to us within a hour and a half! James was kind and professional! And the best outcome was our little bird friend that was stuck in our air conditioner was let go free of harm! Thanks!!
With over 50 years of experience, you can rest assure that Patriot Pest Solutions can eradicate any pest problem you may have in your residence or commercial property
Our family-owned business offers the best wildlife and pest preventative and removal solutions. We pride ourselves on being a results oriented business offering 100% pest control guarantee.