Delaware Valley Spider Pest Control & Extermination
Patriot Pest Solutions exterminates spider infestations in the Delaware Valley. The most commonly found spiders include parson spiders, wolf spiders and black widow spiders. Spider control starts with one of our state licensed pest control technicians providing a full inspection of your property. During the inspection, your we'll point out potential problem areas around the structure. Once the source of your spider infestation has been identified, we'll point out other areas that may harbor spiders later on and the steps you can take to eliminate them in the future. We'll create a customized spider treatment plan for year-round protection, using the most effective and environmentally-conscious spider control solutions available. Our control methods are designed to treat the exterior and interior of the structure using low toxicity, low odor pesticides to eliminate spiders and prevent them from returning. Contact Patriot Pest Solutions for a FREE spider pest control estimate. We'll exterminate spiders around your home and keep them from coming back!
Web removal in and around the exterior of the home does a great deal in the prevention of spiders.
Comprehensive spider treatments involve the application of material on the exterior and interior (basement) of the home. We also apply sticky traps in hidden places to control the insects that spiders feed on.
Spider Protection Program
Our year-round spider protection program eliminates your current ant problem and helps to prevent any future ant outbreaks. Spiders typically live outside, however, they occasionally find their way in to your home, which is why we start with a barrier of pesticide around the yard. We treat both the interior and exterior of the home, ensuring total spider control. The interior of the home will be treated with low odor, low toxicity pesticide to prevent spiders from entering the structure. Next, your technician will focus on the perimeter of the home and outlying areas of the yard. Future service treatments will be exterior-only, without requiring you to be home or having to worry about scheduling conflicts. If spiders happen to show up between services, just give us a call – with our spider protection program, homeowners have the peace of mind that a professional will be available for emergency retreatments between regular visits.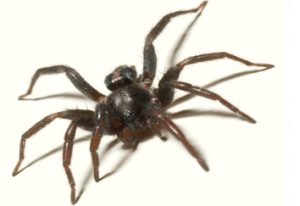 Parson spiders are commonly found all over Pennsylvania. These spiders are often referred to as stealthy ground spiders because they hunt at night and spend daytime hours in sheltered spaces like under stones, leaf piles and baseboards. These spiders move quickly and in a zig-zag which makes capturing them difficult. Parson spiders enter homes during the fall to hibernate during the winter. Their bites often occur when the spider is trapped in bed sheets or in clothing. Although they are not poisonous to humans, the bite can be painful and cause an allergic reaction in some people.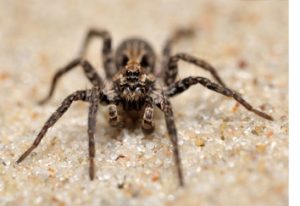 Wolf spiders are hunters that build tunnels or holes in soil. They can also be found in wood piles, under rocks or baseboards. Wolf spiders are nocturnal hunters and usually avoid humans. However, they will bite when trapped or handled. The bite of a wolf spider is not toxic to humans, but it may cause redness and irritation.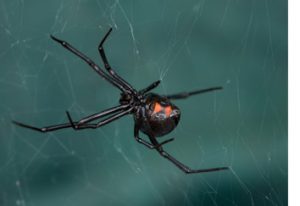 Black widow spiders are identified by their shiny black bodies and red hour glass shape on the abdomen. These spiders usually build irregular shaped webs low to the ground to trap prey. Sometimes, black widows set up webs underneath outdoor furniture or playsets, or in garages or storage sheds. Black widow venom can be very toxic to small children, pets and elderly people. Their bites contain a neurotoxin that may cause nausea, chills, fever and nerve pain. If you think you may have been bitten by a black widow, please seek medical attention immediately.
Why Do People Trust Patriot Pest Solutions To Remove Spiders?
Patriot Pest Solutions offers over 50 years experience in solving spider problems. We're family owned and locally operated. All of our certified, state-licensed technicians are fully insured and ready to eliminate your spider problem. Our treatment methodology was devised by our own in-house Associate Certified Entomologist, one of twelve in the entire state of Pennsylvania. We know how to get rid of spiders and keep them from coming back.

With over 50 years of experience, you can rest assure that Patriot Pest Solutions can eradicate any pest problem you may have in your residence or commercial property. Our family-owned business offers the best wildlife and pest preventative and removal solutions. We pride ourselves on being a results oriented business offering 100% pest control guarantee.
EcoSmart Botanical Pest Control

We use EcoSmart organic pest control products because they offer superior performance and minimal levels of environmental toxicity.

"Chad Kennard is a very professional and informative technician. He came highly recommended and we were not disappointed. We are pleased to have switched our pest control to Patriot Pest Solutions. Thank you."

Justin M is the best! He is a great tech. Very knowledgeable and helpful. Checks on all my concerns. He is wonderful in helping alleviating my crazy spider phobia!!!