Caryn joined PPS in March 2018 … and has proven to be an asset in the office when helping our clients deal with their pest concerns. Caryn's family includes a 4 legged Pup … Bandit a collie mix! She enjoys taking walks with her puppy, and searching out great yard sales and flea markets.
Tech/Bed Bug and Spotted Lantern Fly Specialist
Chris is one of our seasoned technicians who specializes in Bedbug remediation and Spotted Lantern Fly treatment! We are very lucky to have his years of service and expertise. When Chris isn't slaying pests, he likes to spend time with his Alapaha Blue Blooded Bulldog, and Russel Terrier. He enjoys outdoor sports and spending time with his family.
Our Office Manager, Lynda, has been with us since 2015…and is a wealth of knowledge in the pest industry. Lynda and her husband still have furry kids in the house – Sprocket is a handsome Basset Hound, and we cannot forget about her cats, Luna and Boo!
In her spare time she enjoys fishing , antiquing and the outdoors…but also likes the indoor projects like furniture refurbishing and DIY projects around the house.
Tech / Wildlife Specialist
Meet our Wildlife Specialist and Sr Technician Richard Dushock aka "Squirrel Whisperer". With his love for 'critters' he is able to problem solve and eliminate wildlife from invading your home! Rich has been with PPS since 2015 and is our Go-To tech when we have intruders in attics!
Richard has a great love for the outdoors – loves camping and rehabilitating misplaced animals.
Business Development Executive
Ryan is out there hitting the streets … letting everyone know about Patriot Pest Solutions. PPS is thrilled to have Mr. Ritchey as our Business Development Executive. Ryan joins us from Midwest PA and currently resides in the Phoenixville area.
When the weather permits, Ryan is the first to hit the green and enjoy a game of golf. He also likes spending time with his friends and family while going to sporting events or concerts.
Commercial / Residential Specialist
James joined Patriot Pest Solutions the beginning of 2020, and came to us with a pest control background. He is known for his respectful and courteous customer service.
In his spare time, he enjoys fishing and basketball but more importantly our James is an amateur artist! When James isn't behind the easel, he spends time playing with his Pit pup, Sauda.
Commercial / Residential Specialist
Gary is our go-to technician when a pest problem requires "attention to detail". His persistence in problem solving is a real asset to Patriot Pest Solutions. When he isn't on the job, he likes to play his guitar while his cat "Gizmo" keeps him company.
Gary is an avid reader/researcher when it comes to topics of history, law and rights of the Constitution.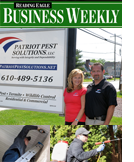 Montgomery County Firm Battles Pests, Supports Good Causes
- Reading Eagle Business Weekly