Squirrel Control & Removal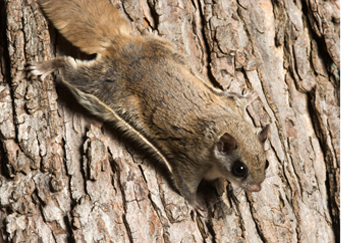 Squirrels may seem cute, but their destructive chewing can cause significant damage to your home. It is important to catch them early, as they routinely damage electrical wiring. We specialize in squirrel control and removal for Berks County, Chester County, Delaware County and Montgomery County, Pennsylvania. You don't resort to extreme measures. We offer humane, live trapping and removal services get rid of your squirrels.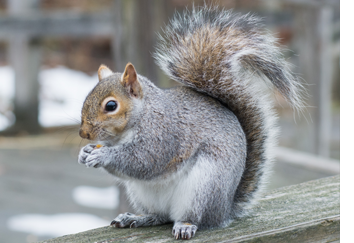 Gray squirrels are very common and found almost everywhere there are trees in the Delaware valley. Most active in the mornings and evenings, these agile animals are fun to watch but almost impossible to keep out of urban bird feeders. Not all gray squirrels are gray. Despite their name, these squirrels can actually be gray, brown, black or white. Gray squirrels are excellent climbers and build nests in barbecue grills, cars, garages and trees.
Gray squirrels can also become a nuisance when they chew through fascia boards or the roof of your home, gaining access into your soffit and attic. Squirrels are very social animals, if you think you have ONE squirrel in your attic, think again. You may have four, five or more because squirrels stay as family unit.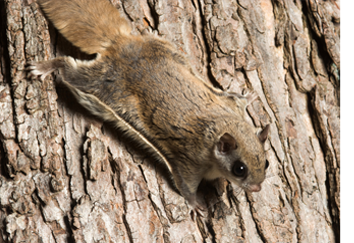 Flying squirrels have large, loose skin flaps between the front and rear legs making their bodies resemble a kite-like shape when in flight. Despite their name, flying squirrels are not capable of flight. These animals glide between trees and rooftops looking for places to live and sources of food. Flying squirrels have large eyes with a black lining around them making them appear to pop out. Flying squirrels mate between February and March but are active all year around.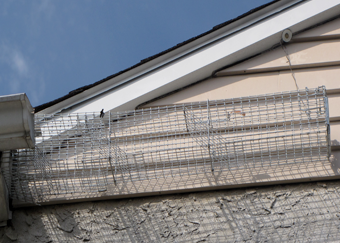 Our technicians are state-licensed and specially trained in humane squirrel trapping, removal and exclusion services. We use special tools and techniques for quick and effective squirrel trapping. The first humane trap we use is a spring-loaded multi-catch trap which covers the entrance the squirrels are using to access the structure. This trap allows multiple squirrels to push on the door, enter the trap with the door closing behind them. We will also use a passive trap (also known as a Have-a-Heart trap) near the opening on the roof.
The passive trap will have bait inside to entice the squirrel. Once inside, the door will close behind them. By using these trapping methods, we will be able to capture squirrels inside the structure, as well as squirrels entering the structure. After the traps are set up, we will begin exclusion work which includes inspecting the structure for weak openings and sealing them by closing gaps or installing the appropriate screens.
Squirrel Exclusion & Squirrel Proofing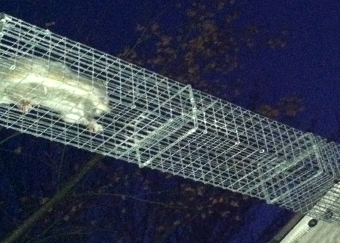 Squirrel exclusion is a safe, effective and permanent solution which humanely prevents squirrels from entering a home or building. Squirrels use existing openings around the home to make their nests and they will continue to enter a structure if they smell another squirrel's presence through weak openings. Only a combined service of trapping and exclusion will eliminate future infestations. We guarantee our services if we use trapping and exclusion together.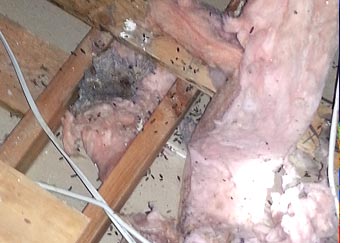 If you have had animals in your attic, you could be harboring a significant health hazard. According to the Center for Disease Control, humans can contract diseases from wildlife when exposed to urine, droppings, saliva or nesting material. An animal presence in the attic means urine, feces and animal carcasses right above you and your family's heads.
We can help! We will remove your contaminated attic insulation, disinfect, repair access holes and install a fresh, clean blanket of TAP pest control insulation.
The Boric acid content of TAP insulation acts as a permanent pest control solution, disinfectant and odor eliminator where it is placed. Typical energy savings with TAP insulation range from 20%-38%.

We're Certified Wildlife Professionals by the National Wildlife Control Operators Association. Our technicians are up to date with the latest training and certifications to provide you with the best and safest wildlife management service possible.

We're proud to be a part of the Pennsylvania Trapper's Association which promotes the humane trapping of wildlife. The Pennsylvania Trappers Association grew from just a handful of trappers in 1936 to become the largest state trapper's organization in the United States.
Why Do People Trust Patriot To Remove Squirrels?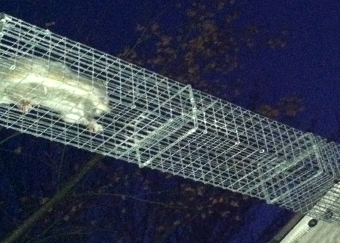 Patriot Pest Solutions offers over 20 years experience in squirrel removal and exclusion. We're family owned and locally operated. Patriot Pest Solutions is a fully insured and licensed with the Pennsylvania Game Commission, National Wildlife Control Operators Association and the Pennsylvania Trappers Association. All of our certified, state-licensed technicians are fully insured and ready to eliminate your squirrel problem. Our treatment methodology was devised by our own in-house Associate
Certified Entomologist, one of twelve in the entire state of Pennsylvania. We know how to get rid of squirrels and keep them from coming back.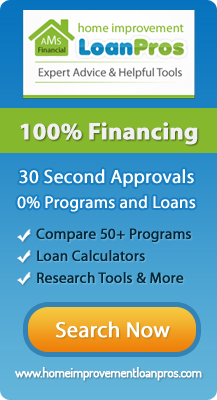 Thank you for your expert workmanship and patience. An extra THANK YOU for squeezing us into the schedule on Monday Dec. 21st the day before we were leaving for our extended trip. That was a HUGE worry off our plate. Our only regret is that we did not contact you two months earlier instead of relying on a company that, obviously, had little experience with squirrel removal. Thank you again. We will certainly reference you in the future if anyone else has pest problems.

Chad was wonderful! Very knowledgeable and eased my worries and concerns immediately! He set the trap Thursday, the little critter set trap off falsely Friday a.m., but was caught Saturday a.m. small squirrel who caused no damage to my home. Thanks Chad and Patriot Pest Solutions!

Dane helped with a squirrel problem in my chimney. He checked the problem, explained the solution, spelled out the plan and helped me to feel better about my concerns. Dane was very polite and business like in his manner. I would strongly recommend Dane to serve any customer and to provide a possible solution to a pest/wildlife problem. I have personally recommended Patriot Pest Solutions to members of my family and to my neighbors. I intend to continue depending on Patriot Pest Solutions.

You have an outstanding company because you have outstanding employees who know their job so well and are so personable and ready to help. It is a great reflection on the ownership of this company and it's mission statement. I met Chad when he visited my home to take care of my squirrel problem and it was a pleasure dealing with him. He quickly diagnosed the problem and solved it. I would definitely use your company again.

I found Patriot Pest Solutions on the internet and after reading some reviews decided to try them. I was not disappointed. I talked to Kim who scheduled an appointment for me and was very helpful, kind and professional. I met Chad at the appointed time and discussed the squirrel problem I was having.He was extremely knowledgeable,personable and patient and quickly resolved my problem. I can now understand the great reviews written for Kim and Chad. Since I met Chad and got to see his work first hand I can see it even more. They are a fine reflection on the company they work for, Patriot Pest Solutions. I would highly recommend this company and it's employees to anyone.

We have a flying squirrel problem in our attic and roof space and Dane T. has been so helpful in hopefully getting rid of our problem, he is knowledgeable, polite, punctual and thorough, would recommend Dane T and Patriot Pest Solutions.

I hired Patriot Pest Solutions to help me with a horrible noise coming from my attic. Chad was the person who came out, right away to help me. When he arrived I was a nervous wreck and terrified. He immediately put me at ease with his confidence that he would solve and exterminate the problem. Turns out it a lot of flying squirrels, meaning Chad would be making several trips to my house to eliminate the problem. Each and EVERY time, he was friendly, persistent, and just awesome at his job. He made me feel safe immediately. He was beyond thorough in resolving my problem. He went out of his way to put my kids at ease and convince them we were in good hands, in no harm in any way, and he would do his job until the attic was free and clear! Exactly what he did! I would hire Patriot Pest Solutions again and ask for Chad in a heartbeat!
With over 50 years of experience, you can rest assure that Patriot Pest Solutions can eradicate any pest problem you may have in your residence or commercial property
Our family-owned business offers the best wildlife and pest preventative and removal solutions. We pride ourselves on being a results oriented business offering 100% pest control guarantee.