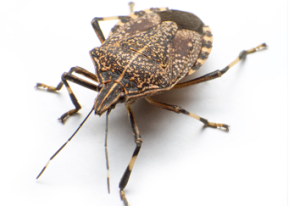 Brown marmorated stink bugs are not native to the Delaware valley region and were likely introduced to the area in the mid 1980s. Stink bugs get their name from the scent glands on the underside of their body. Like cockroaches, the odor stink bugs emit is an airborne allergen, and has a similar effect on the lungs. These brown, shield shaped bugs are almost as wide as they are long. In spring and throughout summer, stink bugs emerge looking for farm crops, fruit trees and vegetables to feed on and destroy. These pests come indoors during the fall months looking for warm places to spend the winter. Patriot Pest Solutions offer a reactive and preventative approach to dealing with stink bugs.
Early Treatment = Total Control
When it comes to stink bug control, treatment in early fall is the key to maximum effectiveness. Temperatures dropping outdoors signal brown marmorated stink bugs to seek sources of shelter for the coming winter months. Homes and businesses treated in early fall can expect a stink bug activity reduction of 90-100%. Treatments performed later in the season may be less effective.
Stink bug infestations are highly seasonal and tend to come back year after year. Single treatments will not eliminate these are a free flying insects. Continual maintenance with regularly scheduled pest control service is the only way to achieve total control.
Most stink bugs infestations originate within the trees around the home.
You do not have to be home, the majority of the treatment can be performed from the exterior.
Stink Bug Elimination Program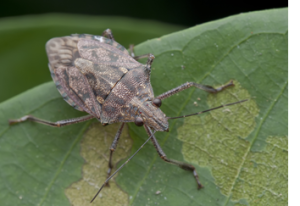 Our stink bug protection program eliminates your current stink bugs problem and helps to prevent any future over-wintering outbreaks. Most stink bug infestations originate outside, which is why treat all cracks and crevices to stop stink bugs as they attempt to enter your home. Our treatment provides a quick reduction in the population and 2-3 weeks of residual protection against future infestation. If stink bugs should happen to show up between services, just give us a call – with our stink bug protection program, homeowners have the peace of mind that a professional will be available for free emergency retreatments.
Stink bug perimeter control starts with a state licensed pest control technician providing a full inspection of your property. During the inspection, we'll point out potential problem areas around the structure. Once the source of your stink bug problem has been identified, we'll create a customized stink bug treatment plan, using the most effective and environmentally-conscious solutions available.
Why Do People Trust Patriot Pest Solutions To Remove Stink Bugs?
Patriot Pest Solutions offers over 50 years experience in solving stink bug problems. We're family owned and locally operated. All of our certified, state-licensed technicians are fully insured and ready to eliminate your stink bug problem. Our treatment methodology was devised by our own in-house Associate Certified Entomologist, one of twelve in the entire state of Pennsylvania. We know how to get rid of stink bugs and keep them from coming back.

With over 50 years of experience, you can rest assure that Patriot Pest Solutions can eradicate any pest problem you may have in your residence or commercial property. Our family-owned business offers the best wildlife and pest preventative and removal solutions. We pride ourselves on being a results oriented business offering 100% pest control guarantee.

"Chad Kennard is a very professional and informative technician. He came highly recommended and we were not disappointed. We are pleased to have switched our pest control to Patriot Pest Solutions. Thank you."

"Justin M. has been with our community at Amity Garden Apartments over the past year. He has always been on time, courteous to the staff and most importantly our residents. All of the services that we request are met or exceeded by Justin and Kim at Patriot. Nothing seems out of reach for their crew! Thank you for taking care of our community."

"We just had PPS out here last week because we've had TONS of ants over the last few weeks and since they left I have not seen one ant! AMAZING!! When Chad came out he was on time, friendly, and seemed very knowledgeable. Most importantly he was thorough! We've had other companies come out and it seems like they're there for 15 minutes and then leave. Chad really took his time explaining what (and why) he was doing certain things and I appreciated that. I highly recommend PPS!"