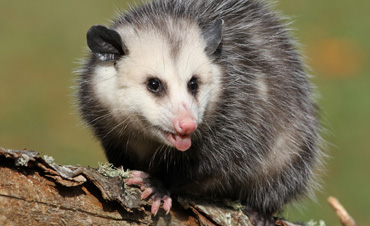 Opossums have the ability to invade your home or attic, which allows for powerful diseases to be transmitted creating a significant health hazard for your family and home. Opossums are the largest marsupial in the Delaware Valley region. Opossums are nocturnal and make their homes in secure areas under decks, homes and sheds. They have also been known to nest in attics, wall voids and garbage can areas.
Depending on their age, opossums range in size between mice and house cats. Opossums eat plants, insects, small mammals and small reptiles. As long as food and water are present nearby, opossums will group together in families. When cornered or threatened, both males and females can become aggressive and will bare teeth, hiss or play dead. Opossums have an incredible tolerance for pain and can fool you into thinking they've died by "playing possum" despite suffering major injury. We've provided humane, opossum removal and live trapping techniques for over 20 years. We can also remove dead opossums on your property or roadside.
Opossums get into trash cans, dig up landscaping, eat chickens and other fowl and eat pet foods. After a source of food is established, opossums look for places to construct their dens. In most cases, a female opossum is preparing to give birth and has selected your property as her new home. Opossums cause a significant amount of damage to houses and other structures. Once inside, opossums shred insulation materials to make a nest. After the nest is constructed, they will urinate and defecate within your attic to mark its territory.
How Can I Prevent Opossums?
You can help prevent opossums from making their home on your property by eliminating sources of food and water available to them. Opossums are opportunistic omnivores and love outdoor pet food, garbage cans without lids and trash bags. They also enjoy fallen fruit and vegetables and from trees and gardens.
Opossum Trapping & Removal
Our technicians are state-licensed and specially trained in humane opossum trapping, removal and exclusion services. We use special tools and techniques for quick and effective opossum trapping. All humane opossum trapping is done in accordance with local, state, and federal laws. After an inspection of problem areas around and inside the structure, your Patriot Pest Solutions wildlife technician will remove opossums from your property using humane traps. Additional traps may be placed to catch additional opossums if the property has a regular problem.
Opossum Exclusion & Opossum Proofing
If you have an opossum problem, we recommend preventative steps to keep your them from returning. Opossums use already existing openings around the home to make their dens. If these holes are left unsealed, more opossums will move in. We eliminate the presence of future opossum infestations by sealing any openings that they might use.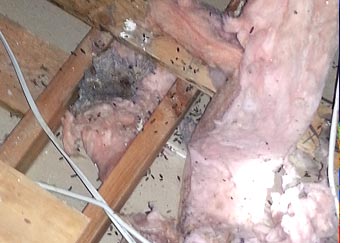 If you have had animals in your attic, you could be harboring a significant health hazard. According to the Center for Disease Control, humans can contract diseases from wildlife when exposed to urine, droppings, saliva or nesting material. An animal presence in the attic means urine, feces and animal carcasses right above you and your family's heads.
We can help! We will remove your contaminated attic insulation, disinfect, repair access holes and install a fresh, clean blanket of TAP pest control insulation.
The Boric acid content of TAP insulation acts as a permanent pest control solution, disinfectant and odor eliminator where it is placed. Typical energy savings with TAP insulation range from 20%-38%.
Why Do People Trust Patriot To Remove Opossums?
Patriot Pest Solutions offers over 20 years experience in opossum removal and trapping. We're family owned and locally operated. Patriot Pest Solutions is a fully insured and licensed with the Pennsylvania Game Commission, National Wildlife Control Operators Association and the Pennsylvania Trappers Association. All of our certified, state-licensed technicians are fully insured and ready to eliminate your opossum problem. Our treatment methodology was devised by our own in-house Associate Certified Entomologist, one of twelve in the entire state of Pennsylvania.

We're Certified Wildlife Professionals by the National Wildlife Control Operators Association. Our technicians are up to date with the latest training and certifications to provide you with the best and safest wildlife management service possible.

We're proud to be a part of the Pennsylvania Trapper's Association which promotes the humane trapping of wildlife. The Pennsylvania Trappers Association grew from just a handful of trappers in 1936 to become the largest state trapper's organization in the United States.

"Chad Kennard is a very professional and informative technician. He came highly recommended and we were not disappointed. We are pleased to have switched our pest control to Patriot Pest Solutions. Thank you."

"Justin M. has been with our community at Amity Garden Apartments over the past year. He has always been on time, courteous to the staff and most importantly our residents. All of the services that we request are met or exceeded by Justin and Kim at Patriot. Nothing seems out of reach for their crew! Thank you for taking care of our community."
With over 50 years of experience, you can rest assure that Patriot Pest Solutions can eradicate any pest problem you may have in your residence or commercial property
Our family-owned business offers the best wildlife and pest preventative and removal solutions. We pride ourselves on being a results oriented business offering 100% pest control guarantee.