Vole Removal & Extermination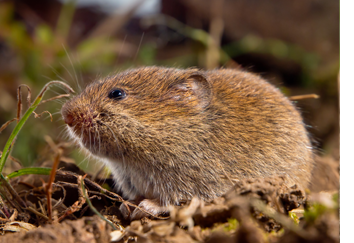 Patriot Pest Solutions specializes in vole control and vole removal for Berks County, Chester County, Delaware County and Montgomery County, Pennsylvania. You work hard to maintain a beautiful lawn and garden, don't let voles destroy your efforts! Every waking moment of a voles life is spent eating the roots of your garden and landscaping. A handful of voles have the power to destroy a lawn with their constant burrowing and insatiable appetites.
We provide live animal trapping and have a proven track record with vole removal in Pennsylvania.
Moles are small, vegetarians that mostly knaw on flower bulbs, grass, potatoes, plant stems, shrubs and tree stumps. Voles are light colored, podgy shaped burrowing mammals with short ears, tails and snout. They spend almost all of their time burrowing underground, and can quickly reduce a beautifully manicured lawn into something that looks more like a miniature minefield riddled with burrows and dotted with volehills.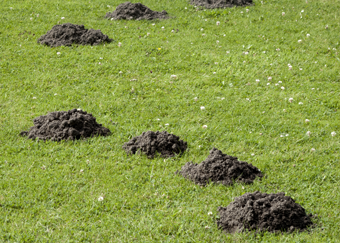 Despite their small size, a few voles can wreak havoc on athletic fields, commercial properties, golf courses, playgrounds, parks and residential lawns.
Your Patriot Pest Solutions vole control technician will customize a trapping program for your property using specially designed traps. 
Vole trapping is the most effective method of quickly removing voles from your property. Trapping success is highly dependant on the trapper's knowledge of vole habits. Voles frequently abandon burrows and tunnel systems making it hard to determine which tunnels are active and where you should place your traps.
Why Do People Trust Patriot To Remove Voles?
Patriot Pest Solutions offers over 20 years experience in vole removal and trapping. We're family owned and locally operated. Patriot Pest Solutions is a fully insured and licensed with the Pennsylvania Game Commission, National Wildlife Control Operators Association and the Pennsylvania Trappers Association. All of our certified, state-licensed technicians are fully insured and ready to eliminate your vole problem. Our treatment methodology was devised by our own in-house Associate Certified Entomologist, one of twelve in the entire state of Pennsylvania. Get back that gorgeous lawn you once had, trust us to get rid of your vole problem fast!

We're Certified Wildlife Professionals by the National Wildlife Control Operators Association. Our technicians are up to date with the latest training and certifications to provide you with the best and safest wildlife management service possible.

We're proud to be a part of the Pennsylvania Trapper's Association which promotes the humane trapping of wildlife. The Pennsylvania Trappers Association grew from just a handful of trappers in 1936 to become the largest state trapper's organization in the United States.

On schedule service. Dane is very knowledgeable and took the time to explain the process we'd be going through. In our case, we have voles. We walked the property and he described what he would be doing and how each step will help eliminate the voles. He also explained the monthly maintenance plan and how it could benefit us. Very professional, very nice and very patient. Glad we found them!
With over 50 years of experience, you can rest assure that Patriot Pest Solutions can eradicate any pest problem you may have in your residence or commercial property
Our family-owned business offers the best wildlife and pest preventative and removal solutions. We pride ourselves on being a results oriented business offering 100% pest control guarantee.