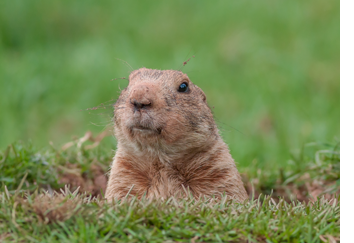 Patriot Wildlife Solutions specializes in groundhog removal services for Berks County, Chester County, Delaware County and Montgomery County, Pa. Groundhogs may have their own holiday, but they can also wreak havoc on your house. Groundhogs make their home under decks, porches, sheds and structural foundations. If you need groundhog removal services, trust Patriot Pest Solutions to provide you with a humane trapping process. We can eliminate your groundhog problem quickly and are fully insured.
We respond within 24 hours of your call with any groundhog capture! As a groundhog removal company with over 20 years experience, we provide live groundhog trapping and have a proven track record with humane groundhog removal in Pennsylvania.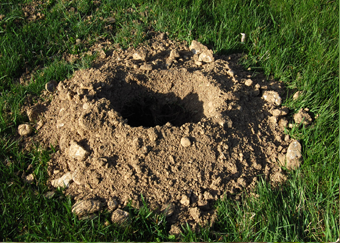 Groundhogs are the largest members of the squirrel family, weighing in at as much as 13lbs. Groundhogs have short legs, tails, four toes on their front feet and five toes on the back feet. They have excellent eyesight and sensitive hearing. Groundhogs nest in the ground, but are excellent climbers and swimmers. Groundhog burrow systems can be anywhere from six to forty five feet long with multiple exits and several chambers. Groundhogs become fatter near autumn as they get ready for hibernation.
Groundhogs hibernate during the winter and emerge from hibernation when mating season begins. During the growing season, these herbivores spend their time eating plant material. Groundhogs can be very destructive to our yards, homes, and structures. They can decimate a plot while feeding during the summer and fall seasons. Flower beds, gardens and lawns make excellent food sources for groundhogs. After feeding on your property, groundhogs leave behind holes the size of basketballs. Holes near steps or structures undermine the structure's foundation and can cause extensive damage to the structure.
Why Do People Trust Patriot To Remove Groundhogs?
Patriot Pest Solutions offers over 20 years experience in groundhog removal and exclusion. We're family owned and locally operated. Patriot Pest Solutions is a fully insured and licensed with the Pennsylvania Game Commission, National Wildlife Control Operators Association and the Pennsylvania Trappers Association. All of our certified, state-licensed technicians are fully insured and ready to eliminate your groundhog problem. Our treatment methodology was devised by our own in-house Associate Certified Entomologist, one of twelve in the entire state of Pennsylvania. We know how to get rid of groundhogs and keep them from coming back.

We're Certified Wildlife Professionals by the National Wildlife Control Operators Association. Our technicians are up to date with the latest training and certifications to provide you with the best and safest wildlife management service possible.

We're proud to be a part of the Pennsylvania Trapper's Association which promotes the humane trapping of wildlife. The Pennsylvania Trappers Association grew from just a handful of trappers in 1936 to become the largest state trapper's organization in the United States.
Groundhog Removal Reviews

I was very happy to have my groundhog problem resolved. Dane took care of my problem even though it was a Saturday.

Highly recommend! Timely, honest pricing, pleasant to deal with and effective, what more could you want! We had a pesky groundhog that just kept coming back under our pool house and once we called Patriot Pest Solutions, they were out to take care of it immediately! Chad was our guy and his tactics were effective and once captured, he was back the same day to remove the animal! We are groundhog free thanks to Patriot Pest Solutions and we couldn't thank them more for their great work!!

Highly recommend Dane is very helpful and can recommend the best places to place the traps. We caught eleven groundhogs and one raccoon last year with his help.
With over 50 years of experience, you can rest assure that Patriot Pest Solutions can eradicate any pest problem you may have in your residence or commercial property
Our family-owned business offers the best wildlife and pest preventative and removal solutions. We pride ourselves on being a results oriented business offering 100% pest control guarantee.